THIS GIVEAWAY IS NOW CLOSED!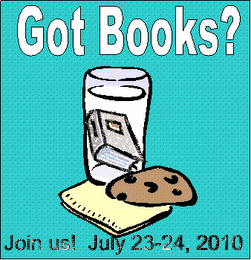 The time has come! The amazing Got Books? Event is here. Don't know what that is? Go
HERE
to read more and find the list of all the participating blogs.
Sure, they've always told us that milk is good for you, but we all know there is nothing better for you than a good book! So, Got Books? Want another?
Then you've come to the right place! I'm going to be giving away a fantastic set of prizes to one lucky winner!
What you can win
A signed copy of
Lonely Hearts Club by Elizabeth Eulburg
which I absolutely loved! (just click on the title to read my review!)
The lucky winner will also receive this fantastic prize pack!
This pack of swag includes:
Deadline Dames Emory Board and Magnet
A Match Made In High School Pencil
Unchained booklet and bookmark
Been There. Slain That. magnet
Meridian temp tattoo and bookmark (signed)
Dirty Little Secrets bookmark (signed)
The Devil's Playground bookmark
Whisper bookmark (signed)
Glass Slipper temp. tattoos
Cross Your Heart postcard
and Falling Fly temp. tattoo
One Butt Cheek at a Time bookmark (signed)
Tell Me a Secret bookmark (signed)
So the part you're all waiting for, how do you win it!
All you have to do is fill out the form below!
This giveaway is open to US only
You must be 13 years of age or older to enter.
It's not required that you follow me to enter this contest, but if you like my blog I'd love for you to do so, and come back to see me soon!