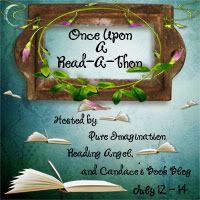 OK, the read-a-thon is almost upon us! If you haven't signed up yet be sure to do so

HERE.
So, we thought that in preperation for the read-a-thon we'd post about books we loved, that were fast and fun, and that we thought you would enjoy trying for the read-a-thon!
We would love for you to comment, or to do a post with what book you recommend and link it back to us in the comments! The more suggestions I can get the better!!!
So, here are mine...
Chasing Brooklyn by Lisa Schroeder
Restless souls and empty hearts.
Brooklyn can't sleep. Her boyfriend, Lucca died a year ago, and now their friend Gabe has died of an overdose. Every time she closes her eyes, Gabe's ghost is there, waiting for her. She has no idea what he wants or why it isn't Lucca chasing her through her dreams.
Nico can't stop. He's always running, trying so hard not to feel the pain of missing Lucca. But when he begins receiving messages from his dead brother, telling him to help Brooklyn, emotions come crashing to the surface.
As the nightmares escalate and the messages become relentless, Nico reaches out to Brooklyn. But neither of them can admit that they're being haunted. Until they learn to let each other in, not one soul will be able to rest.
The Girl Who Chased the Moon by Sarah Addison Allen
Emily Benedict came to Mullaby, North Carolina, hoping to solve at least some of the riddles surrounding her mother's life. For instance, why did Dulcie Shelby leave her hometown so suddenly? Why did she vow never to return? But the moment Emily enters the house where her mother grew up and meets the grandfather she never knew—a reclusive, real-life gentle giant—she realizes that mysteries aren't solved in Mullaby, they're a way of life.
Here are rooms where the wallpaper changes to suit your mood. Unexplained lights skip across the yard at midnight. And a neighbor bakes hope in the form of cakes.
Everyone in Mullaby adores Julia Winterson's cakes. She offers them to satisfy the town's sweet tooth and in the hope of bringing back the love she fears she's lost forever. In Julia, Emily may have found a link to her mother's past. But why is everyone trying to discourage Emily's growing relationship with the handsome and mysterious son of Mullaby's most prominent family? Emily came to Mullaby to get answers, but all she's found so far are more questions.
Is there really a ghost dancing in her backyard? Can a cake really bring back a lost love?
In this town of lovable misfits, maybe the right answer is the one that just feels…different.
The Lonely Hearts Club by Elizabeth Eulberg
Penny is sick of boys and sick of dating. So she vows: no more. It's a personal choice. . .and, of course, soon everyone wants to know about it. And a few other girls are inspired. A movement is born: The Lonely Hearts Club (named after the band from Sgt. Pepper). Penny is suddenly known for her nondating ways . . . which is too bad, because there's this certain boy she can't help but like. . . .
Heist Society by Ally Carter
When Katarina Bishop was three, her parents took her on a trip to the Louvre...to case it. For her seventh birthday, Katarina and her Uncle Eddie traveled to Austria...to steal the crown jewels. When Kat turned fifteen, she planned a con of her own--scamming her way into the best boarding school in the country, determined to leave the family business behind. Unfortunately, leaving "the life" for a normal life proves harder than she'd expected.
Soon, Kat's friend and former co-conspirator, Hale, appears out of nowhere to bring her back into the world she tried so hard to escape. But he has good reason: a powerful mobster has been robbed of his priceless art collection and wants to retrieve it. Only a master thief could have pulled this job, and Kat's father isn't just on the suspect list, he is the list. Caught between Interpol and a far more deadly enemy, Kat's dad needs her help.
For Kat there is only one solution: track down the paintings and steal them back. So what if it's a spectacularly impossible job? She's got two weeks, a teenage crew, and hopefully just enough talent to pull off the biggest heist in history-or at least her family's (very crooked) history.