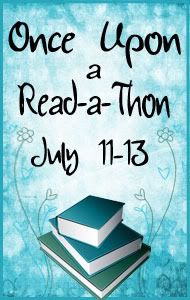 It's time for the second annual read-a-thon to officially kickoff!!!
Although I'll be heading to bed soon I hope to get in a couple hours of reading and then I'll be starting again as soon as I'm up again in the morning!
If you update on twitter please use the #OUreadathon hashtag so we can find your updates!
I have a huge pile of books that I want to get through during this read-a-thon and I still haven't really decided exactly which of them I'm going to tackle, guess I'll just see what I'm in the mood for as I finish each book!
I'm so excited to just read and read and read!
If you want to participate in the Once Upon a Read-a-Thon but haven't sign-up yet, it's not to late! Just go HERE, fill out the form, enter in the linky and start reading! There is already almost 300 people participating so it is sure to be a blast!
Just remember, to be eligible for any of the AMAZING giveaways we've been spotlighting, you must do at least one update post and participate in at least one mini-challenge!
Also, please do a wrap-up post of what you read and what challenges you did when the read-a-thon is over!
Here is where you will find each mini-challenge
Tuesday
So, happy reading everyone!