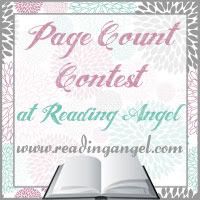 Is everyone ready for some friendly competition to kick their May reading into overdrive and a chance at some great giveaways?
I know I'm ready to hopefully fly through a ton of books this month!
If you haven't signed up for the May Page Count Contest yet you can still do that now through Thursday night! Find out all the details and sign-up here.
This google doc is where you will come and enter every book you read from 12:00 AM EST May 1st until 11:59 PM EST May 3rd.
(We have a short week to start us out!)
After this it will go from Friday morning until Thursday evening each week.
Remember you must submit the form for EACH BOOK you finish this week.
If you have already started a book before May 1st and plan to continue that book for this contest, please jot down what page you are on and only count the pages you finish from May 1st on!!!
On May 4th I will put up the Top 20 Readers of the week and a new google doc for the following week.
Also remember, this is for YA and Adult books, no children's or picture books, comics or graphic novels. Also, no audio books, we're only counting pages we read, not listen to in this particular contest (no offense to audiobooks since I <3 them...)